Finneytown Furnace Repair Services
Expert
Heat Pump Maintenance

Services in Finneytown, OH
At Finneytown Heating & Cooling, we recommend homeowners and business owners with heat pumps be proactive and prevent heat pump problems from happening in the first place. If you own a heat pump, you should have an HVAC technician perform preventative maintenance at least one time each year. Without regular maintenance, heat pumps can use as much as 25 percent more energy than a system that's maintained consistently by a qualified HVAC technician. To make matters worse, neglecting to have maintenance performed on your equipment makes it more likely to develop problems and perform inefficiently. Sooner or later, you'll end up having to replace the heat pump and install a new HVAC unit to replace it prematurely. 
Our NATE-certified heat pump experts at Finneytown Heating & Cooling are local, licensed and fully insured. Our men and women are happy to come out to your home for your seasonal maintenance inspection and heat pump tune-up. We will service your heat pump, clean it, check everything and give it all the professional attention and care it needs to last as long as possible and save you money in the long run. If you own a heat pump in the Greater Cincinnati Ohio area and need heat pump maintenance services, make sure you call the local heat pump experts near you at Finneytown Heating & Cooling! Because they're being used during the summer and winter, heat pumps need regular expert care so that they don't develop excessive wear and tear and degenerate over time. Without this care, heat pumps become inefficient quickly. We at Finneytown Heating & Cooling encourage our customers who own heat pumps to have preventative maintenance performed regularly and consistently to minimize wear and tear on the unit and lengthen its service life.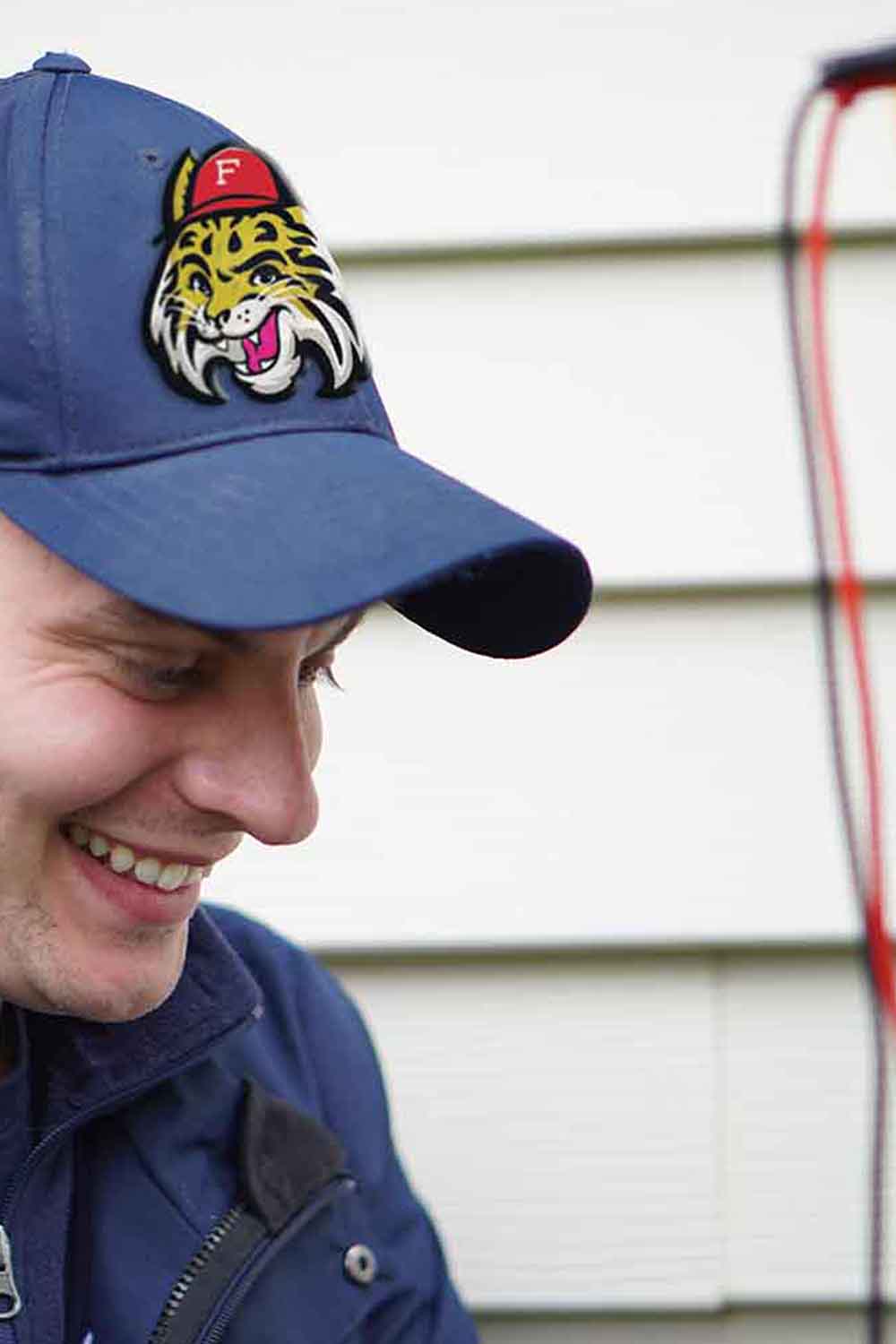 About Our Heat Pump Tune-Up
Staying in contact with an HVAC expert who can perform a heat pump tune-up at least once a year improves your equipment's performance. This, in turn, helps reduce energy consumption while prolonging its lifespan. Additionally, maintenance helps homeowners and business owners avoid having to make unexpected repairs at the worst times.
If you have a residential or commercial heat pump, you want to keep the equipment running at its best all year long for as long as possible. Having a NATE-certified HVAC technician from Finneytown Heating & Cooling perform a tune-up ensures the efficient and effective performance of this heating and air conditioning unit. With a single visit, our local heat pump experts can reduce your heat pump's energy consumption and prolong its life span. This makes it not only run better but also last a lot longer. During a maintenance visit, our heat pump maintenance experts go through a wide range of cleanings, lubrication, inspections and testing. 
4
Benefits

of Heat Pump Maintenance
Improves Your Heating & Cooling Efficiency

Your heat pump becomes less efficient when it's in bad shape. In addition to compromising indoor comfort, this also makes the equipment more expensive to use. Although maintenance requires a little money up front to have a technician come to your home or building, the tune-up they perform pays for itself. In short, signing up for maintenance services with your friends here at Finneytown Heating & Cooling solves problems ahead of time. Routine maintenance ensures optimal performance of your heat pump in addition to equipment longevity. This keeps your monthly heating and cooling costs down by as much as 25 percent.
Maintains Equipment Warranty

Your heat pump's warranty is something you should take seriously and keep active for as long as possible. Most warranties come with conditions that explicitly state a qualified technician needs to service the system every year to keep them active. This goes for repair work performed on the unit as well as installation. All work needs to be performed by an expert. Because of this, having an expert like Finneytown Heating & Cooling perform maintenance will keep your warranty active. If a part is defective or if there is any sort of mechanical problem, you'll be grateful you took the time to have it done.
Superior Comfort and Health

A heat pump's performance can affect your health as well as your indoor comfort. Without routine maintenance from an expert like Finneytown Heating & Cooling, it can put your equipment at risk. Heat pumps can emit gas if it were to crack. Fire hazards can be created because of short-circuiting. With expert maintenance, these issues are addressed early on before becoming problems. This leaves the home safer and more comfortable.
Prolongs Equipment Lifespan

Heat pumps that are cared for with expert maintenance last much longer than those that are not. Wear and tear develop because it's running all year during both the hot and the cold months of the year. Parts can become defective and things can malfunction that would have been caught with maintenance. Lack of service shortens the heat pump's lifespan. By having maintenance performs, all these problems are avoided and we can find and fix any minor issues early before they become major problems.
What is SEER?
SEER is short for Seasonal Energy Efficiency Ratings. This rating guages the efficiency of your heat pump during the wintertime as well as the summertime. To calculate your heat pump's SEER rating, you have to look at the production of cool air during the summer and compare it to the total amount of electricity it consumes in Watt-Hours. The average SEER rating of a new heat pump varies from 13 to 25. Typically, your heat pump's SEER ratings is usually located on the side of the unit.
General
Heat Pump Maintenance

FAQ
What DIY maintenance can I perform on my heat pump?
If you use a heat pump, you should check your unit's air filters regularly. Ideally, air filters need to be checked at least once a month. If they're dirty, they also need to be replaced. Replacing a heat pump's air filter is an easy process that doesn't take long and you can do it on your own without much cost. Maintenance needs to be performed regularly because the unit's air filter collects dirt, pet dander, dust and other impurities quickly. This stuff ends up blocking airflow and clogging the air filter. If airflow is obstructed, it can cause damage. In addition to checking air filters every month, the heat pump itself should be cleaned and taken care of during the winter. During the winter it's essential to keep your heat pump free of ice, and debris, especially on top of the unit, in addition to the sides and bottom. Keep a three-foot radius surrounding the unit should be kept free of vegetation during the summer.
How much does heat pump maintenance cost?
At Finneytown Heating & Cooling, we make heat pump maintenance services affordable for homeowners and business owners throughout Southwest Ohio and Northern Kentucky. We keep the prices on our maintenance services competitive and promote maintenance for the benefit of our customers and their equipment. In any case, a heat pump maintenance visit elsewhere usually costs between $50 and $180 for the visit itself on top of standard hourly rates that range from $80 to $160. Keep in mind, this doesn't cover any repair costs for parts and labor if problems are found. In any case, our heat pump service experts here at Finneytown Heating & Cooling offer online deals and special discounts for heat pump maintenance. We also offer Scheduled Maintenance Agreements or Preventative Maintenance Plans to lower the cost for regular customers who sign up.
Do heat pumps really need annual maintenance?
Heat pumps should get two tune-ups each year in order to maintain heating and cooling efficiency. However, at a bare minimum, the equipment needs to be serviced at least once each year. Whenever you have maintenance performed on a heat pump, it needs to be performed by a licensed HVAC expert during the spring and fall. Doing it before the heating and air conditioning season enables our experts here at Finneytown Heating & Cooling to identify small problems and correct them before they become major mechanical breakdowns that are far more expensive on top of being inconvenient.