Finneytown Furnace Repair Services
Expert
Furnace Installation

& Replacement in Finneytown, OH

Installing a new furnace is a big job. However, this doesn't mean it should be an expensive mess that ends up costing you an arm and a leg. As the area's local furnace installation experts, we at Finneytown Heating & Cooling specialize in selling and installing high-quality residential and commercial heating systems at the most competitive prices in Greater Cincinnati and Greater Dayton. Homeowners and business owners who hire Finneytown Heating & Cooling to replace their heating systems give us top ratings and stay customers for life. Because we've been in the HVAC industry for decades, we have great working relationships with the highest-rated manufacturers, leaders and innovators in the industry. While we are a local family-owned and operated business built on basic family values, we have the bulk buying power of a big corporation. This enables us to get the best furnaces on the market at the lowest prices and pass those savings on to our customers. With Finneytown Heating & Cooling, you get the friendly personal touch of a small business with many of the perks of choosing a major company.
Being a part of the Five Star Family allows us to do that. We are an Authorized Amana Dealer. However, we sell and install all the major name brands of HVAC equipment, including names like Bryant, Trane, Carrier, Lennox, American Standard, Goodman, Ruud and more. If any of this interests you, we can give you a free quote on furnace installation to get the process started. We also offer flexible finance options to help you pay for your new furnace in monthly payments that are manageable and interest rates that are fair.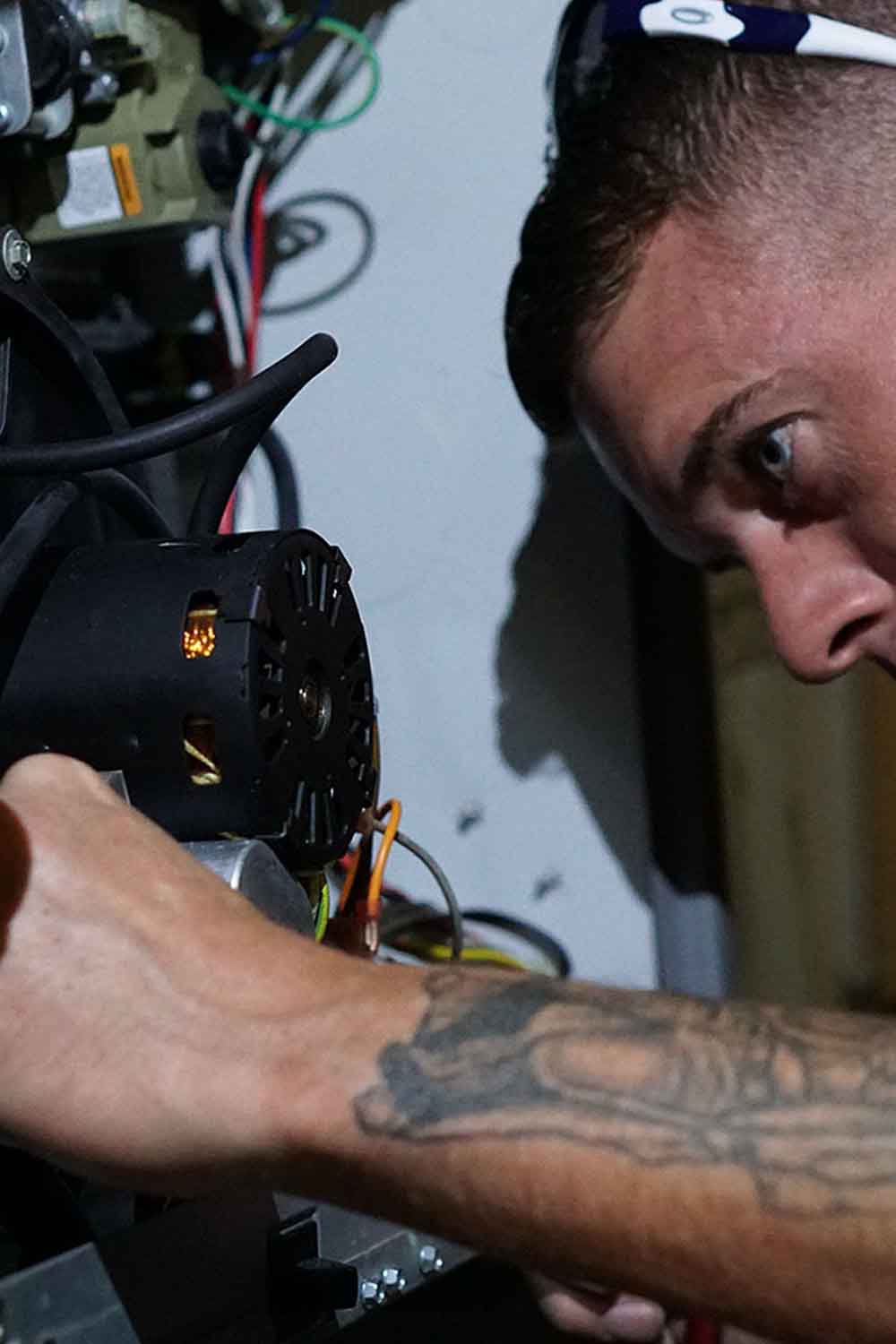 About Our Instant Online Estimate
We at Finneytown Heating & Cooling strive to make the furnace installation process fast and simple from start to finish. If you're in the market looking to install a new heating system or looking for an estimate on furnace replacement services, you can always get an Instant Online Estimate on our website. All you have to do is fill out the form below and click submit! After you submit the necessary information, we will contact you right away. Additionally, you can always get immediate support by calling our 24-hour call center, which is open 365 days a year! Give us a call at (513) 935-0440. Finneytown Heating & Cooling is the area's Authorized Amana Dealer. We sell and install all the top brands of heating equipment on the market at prices that are competitive.
When to
Replace

Your Home Heating System
Timing is everything, and knowing when it's time to replace a heating system is half the battle. The other half is getting in touch with the furnace replacement experts at Finneytown Heating & Cooling.  After you've picked up that phone and called our 24-hour call center, you're in good hands. We take it from there. Once you're in our care, you can sit back, save and relax. You can enjoy peace of mind, in addition to optimal home comfort and lower heating costs.
For starters, the first thing you look at is the furnace's age. If you are like a lot of people, you probably had a fully functional heating system in place when you bought your home. This means it might be close to the end of its lifespan. It's essential to look at the equipment's age. If you have the owner's manual, check that for when it was made and installed. If not, look up the furnace's model number on the internet. The model number should be on the heating system itself. The average lifespan of a residential heater ranges from 15 – 20 years depending on how well it was installed and how well it's been maintained.
Ask yourself how often you have needed to call on an HVAC repair expert to come to repair your furnace during the last few years. If you see an HVAC expert more than your friends, it is definitely time to call for a free estimate. We offer free estimates online. All joking aside, nevertheless, if you're making more repairs the chances are they are becoming more common and you're essentially throwing money into an older system that's going to need to be replaced sooner or later.
When an HVAC unit's heating efficiency declines, it's usually a sign the furnace needs maintenance. If it's a newer heater, it might need repair services. If the heating unit is older (15 years or more) you should begin considering furnace replacement. Often, furnace inefficiencies are caused by wear and tear on internal parts. If your heating bills are on the rise, we recommend giving Finneytown Heatig & Cooling a call before it gets worse. We can offer expert, long-term furnace efficiency solutions you can afford to curb home heating costs and keep your equipment in optimal condition. In short, you can't afford not to!
Safety always needs to be the highest priority with heating equipment. If you are experiencing any of the above signs from your furnace, it's time to speak with an HVAC expert and consider furnace replacement. Not only is it important to have a reliable source of heat for the entire home during the winter, but it's also essential to keep your family safe while doing so. Problems with a home heating system can cause health problems. There could be issues with carbon monoxide, dust, pet dander, and other things that are toxic. Because of the health and safety factor, playing it safe can save you money in the long run. Call Finneytown Heating & Cooling today!
Finneytown Heat Pump Services
Heat pumps are devices that transfer heat from one place to another. They offer heating and air conditioning for homes and commercial spaces. Although heat pumps look a lot like a central air conditioning system, they offer heating in addition to air conditioning. During the winter, heat pumps usually work with the assistance of an air handler.
Finneytown Heating & Cooling encourages you to improve your indoor comfort levels while lowering your heating and air conditioning costs by installing a heat pump. This single, year-round heating and cooling system is better for our environment. Heat pumps need less maintenance. They are also lighter on energy consumption and much quieter. When things become hot and humid during the summer here in Southwest Ohio, heat pumps operate very similarly to an air conditioner. They help to remove humidity and offer indoor comfort that's no different than a centralized air conditioner. During the winter, however, heat pumps also help with indoor heating. During the coldest times of the year, heat pumps work with an air handler or secondary heat source.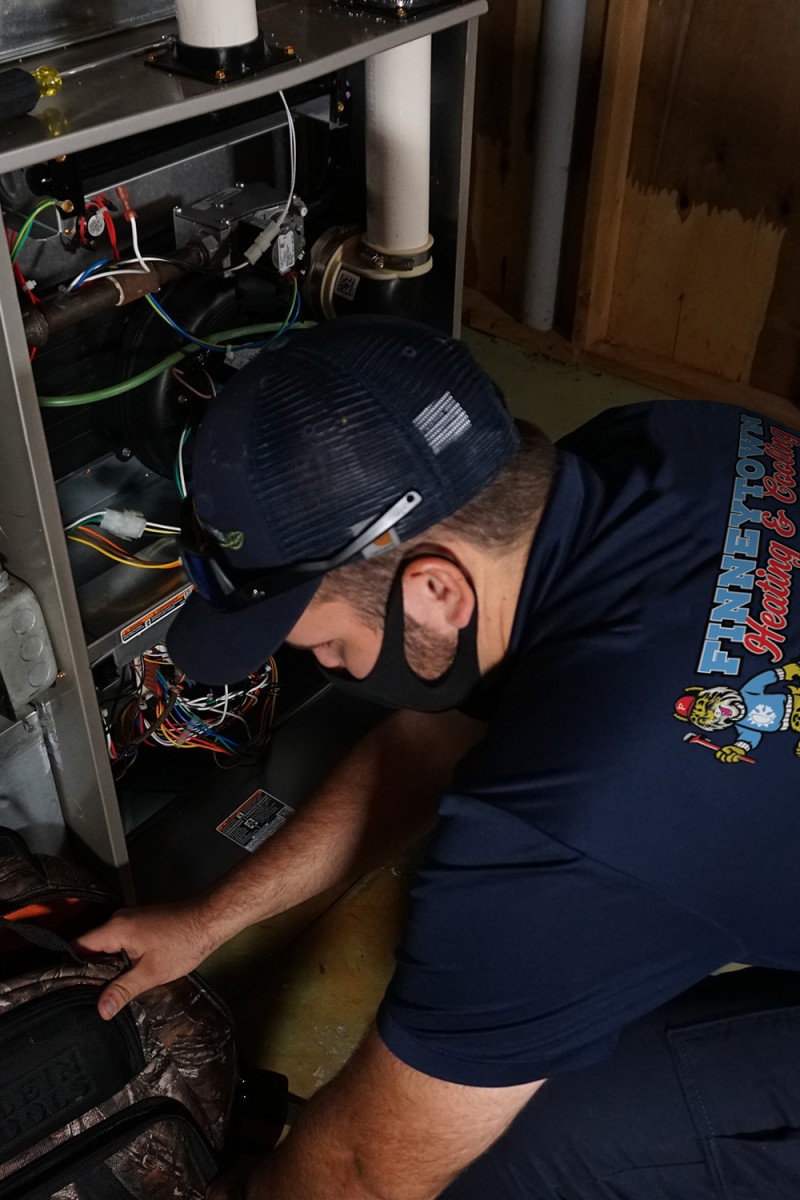 24-Hour Emergency Furnace Services in Finneytown, OH and Greater Cincinnati
Ohio's winter weather is cold. When you lose your source of heat, your heating emergency becomes our heating emergency and we send someone over quickly. Fast and affordable emergency heating system repair services are always a simple phone call away when you choose Finneytown Heating & Cooling. We can fix any and all residential furnace problems (we repair all types of furnaces, all makes, ages and models) in a single visit. In fact, emergency furnace repairs are one of our specialties. With customer satisfaction as our highest priority, you can't go wrong calling Finneytown Heating & Cooling for all your heating needs. When you call us with a furnace problem, our emergency furnace repair experts send an expert to your home without any sort of delay, that same day. Without it costing you an arm and a leg, they show up fast and fix your furnace on the spot. Finneytown Heating & Cooling understands that a furnace breakdown is more than a hassle. With Ohio's cold weather, furnace problems are potential safety hazards.
Even if your heating system is still running, if your heater is underperforming or older than 15 years, you should call a professional to have it looked at, especially if it's an older gas furnace. Gas furnace problems can be especially dangerous. Don't risk letting a heating system problem go unaddressed another winter day. 
General
Installation & Replacement

FAQ
What is the best type of furnace to install?
There are a several things a homeowner should take into consideration when deciding which is the best furnace brand for their homes. Overall, it largely depends what you value in a new heating system. The major factors for most customers will be the average cost of installation, energy efficiency, AFUE ratings, and the warranty offered on the HVAC system. If you need to replace your whole HVAC system you might also be interested in learning about the best air conditioner brands. The best furnace brands will give you the most reliable performance over time and help you save on energy bills while keeping your house warm. The best furnace brands on the market today include Amana, American Standard, Bryant, Carrier, Daikin, Goodman, Lennox, Rheem, Ruud, Trane, York and Heil. The best way to find the best unit for your home is to call our knowledgeable furnace install specialists at Finneytown Heating & Cooling.
What's the best type of fuel for a home heating system?
While you're deciding on the type of furnace you're getting, you need to consider the fuel source. There are 3 types of fuel you can use to heat your home. These three main types include oil, gas and electricity. To figure out which of these is the best option, you need to check the prices of suppliers for each type of fuel and figure out which is available the most. 
Different types of heating units vary in size and because of this your available space needs to be considered. Propane furnaces or oil furnaces need more room than other oil and natural gas furnaces. Because natural gas furnace systems provide cleaner energy and are good for dwellings in general that are not connected to gas supplies, they are often the best choice.
What's a furnace safety rating?
If you have others in your residence, you want your heating system to be as safe and effective as possible. Experts at the Air-Conditioning, Heating, & Refrigeration Institute say using a licensed expert for installation is necessary for ensuring gas safety. The furnace needs to have the safest disposal components for carbon monoxide, which is colorless, odorless and deadly. If the vent of a gas furnace is improperly installed, or if it becomes obstructed, CO poisoning can cause sickness and even death. Because of this, no matter how well a gas heating system is installed, carbon monoxide detectors need to be located throughout the home or building with working batteries that are checked regularly.