Finneytown Heating Services
Residential Furnaces & Heating Systems in
Finneytown, Ohio
Here in southwestern Ohio, bitterly cold temperatures arrive every wintertime like clockwork. Because of Ohio's cold winter climate, it is essential for homeowners and building owners to have reliable heating systems in place. Heaters might keep you and your loved ones warm in milder winter weather, and they might work for smaller areas and single rooms. However, if you have a home or property that needs heat, you need a gas or electric furnace that works for the entire place. At Finneytown Heating & Cooling, we know how vital it is to have a dependable heating system that keeps your whole place nice and warm all winter long but doesn't cost a fortune in heating bills. Our residential and commercial heating technicians can provide you with prompt furnace repairs, furnace replacements or heating system installation services at fair prices. 
Affordable furnace services are always a simple phone call away when you choose Finneytown Heating & Cooling — a local heating system expert that takes your indoor comfort as seriously as you do. Finneytown Heating & Cooling is a local, family-owned and operated HVAC business that helps area homeowners and business owners with any and all HVAC system needs as well as indoor air quality needs. We offer a wide selection of HVAC products and services at low prices. We work on all types of furnaces and all types of heating units, all makes and models, and we are Southwest Ohio's top choice as an Authorized Amana Dealer.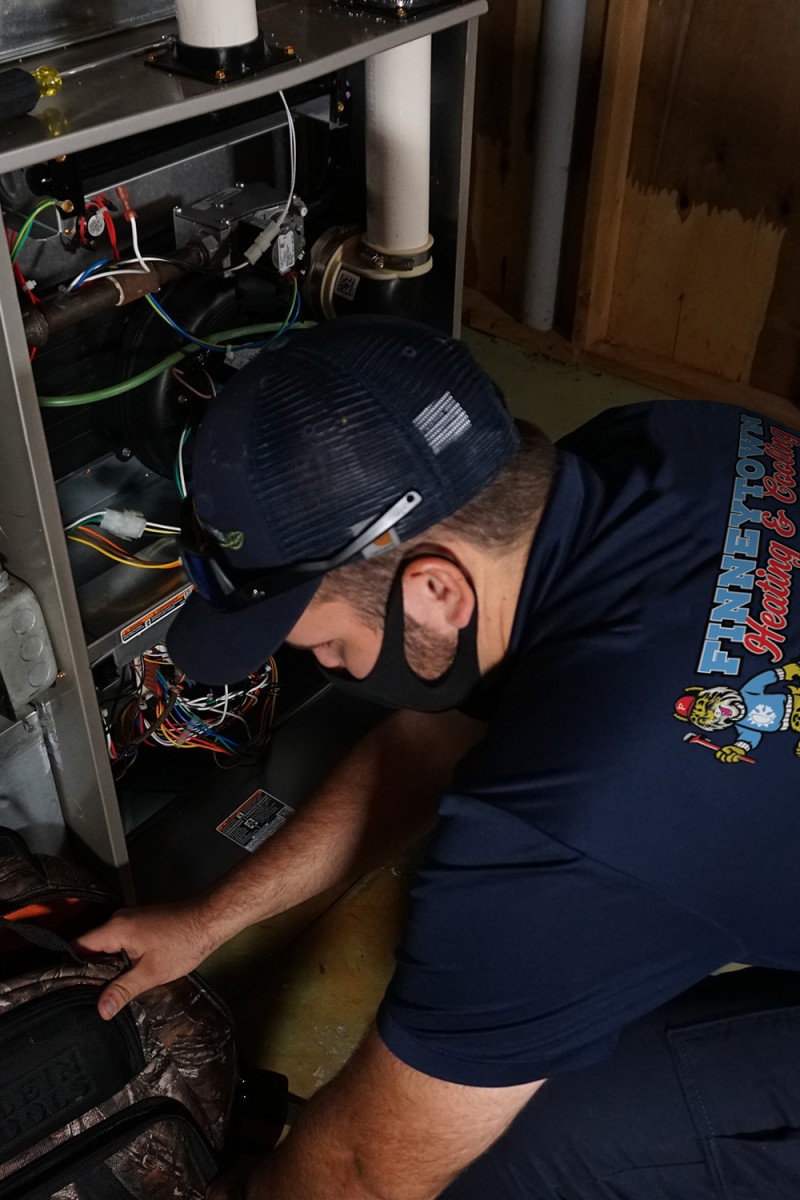 Finneytown Heating & Cooling
A Local Company
You Can Trust
Furnace Repair Services in Finneytown, OH
Do you need same-day furnace repair services in Greater Cincinnati or Greater Dayton? Finneytown Heating & Cooling is the best furnace repair service to call for all your residential and commercial heating needs. We have been working in area homes for half of a century. We serve all of the Greater Cincinnati area, as well as parts of Northern Kentucky, with experience, tons of industry knowledge and connections, and competency ensuring your heating system repair job is taken care of the same day with customer satisfaction 100% guaranteed.
As the leading home heating contractor in Finneytown, our furnace repair experts are always on-call to handle service calls on all the leading heating equipment systems and brands. As a leading furnace repair contractor, we will get your repairs done quickly and done right the first time, during our initial visit. We offer low-cost heating system diagnostics and employ highly trained problem solvers who pass rigorous background checks and drug testing. We are committed to repairing your heater in a timely and professional manner. We also have a range of comprehensive service plan options that help you prevent any unnecessary furnace problems during the winter and ensure that your home comfort equipment runs like it should — all year long.
Furnace Maintenance

& Safety Checks in Finneytown, OH

There are certain minor things a homeowner can do on their own to prolong the lifespan of their furnace. However, for safety and efficiency's sake, there's still no substitute for expert preventative maintenance performed by an HVAC technician that's NATE-certified. Furnace maintenance is critical when we are getting closer to wintertime, that time of year when we are using our furnaces around the clock, throughout the weekends and holidays. Not only will a heating system tune-up and heater safety check help you prevent all sorts of furnace problems during these especially cold months here in Southwest Ohio, but it will also save you money on home heating expenses, furnace repairs and premature furnace replacement.

At Finneytown Heating & Cooling, our furnace maintenance services prolong your heating system's lifespan and ensures optimal comfort throughout the home for an extremely reasonable price. To keep your heating system firing on all cylinders all winter long, schedule your furnace tune-up and furnace safety check today as part of a routine seasonal maintenance visit with one of our friendly furnace experts who would be happy to come to your home when it's convenient for you and service your heating equipment so your home is warm and safe throughout the cold season.
Heating System Installation/Furnace Replacement Experts in Finneytown, OH
Finneytown Furnace
Installation
Whenever you install a new heating system, it's a big decision. Furnaces should be seen as major home investments. They affect the value of your home in addition to your monthly budget. However, if you have an older furnace or a heating system that's outdated, did you know you could be paying way too much to heat your home?
Often, many of our customers are surprised to find the amount of money they save on their heating bills each month ends up paying for the furnace replacement in the long run. When it comes to making a major decision like installing a new heating unit in a home or business, we believe it's important the customer feels as comfortable as possible. We want you to feel well-informed, and have full faith with peace of mind knowing you're in good hands. As a member of the Five Star Family, for half a century our growing, reputable, family-owned HVAC company has been installing all types of heating equipment, including both gas and electric furnaces, zoned heating systems, ductless heating systems, heat pumps and air handlers and much more to satisfied customers all over Ohio.
We Provide Heating Services in Finneytown, Ohio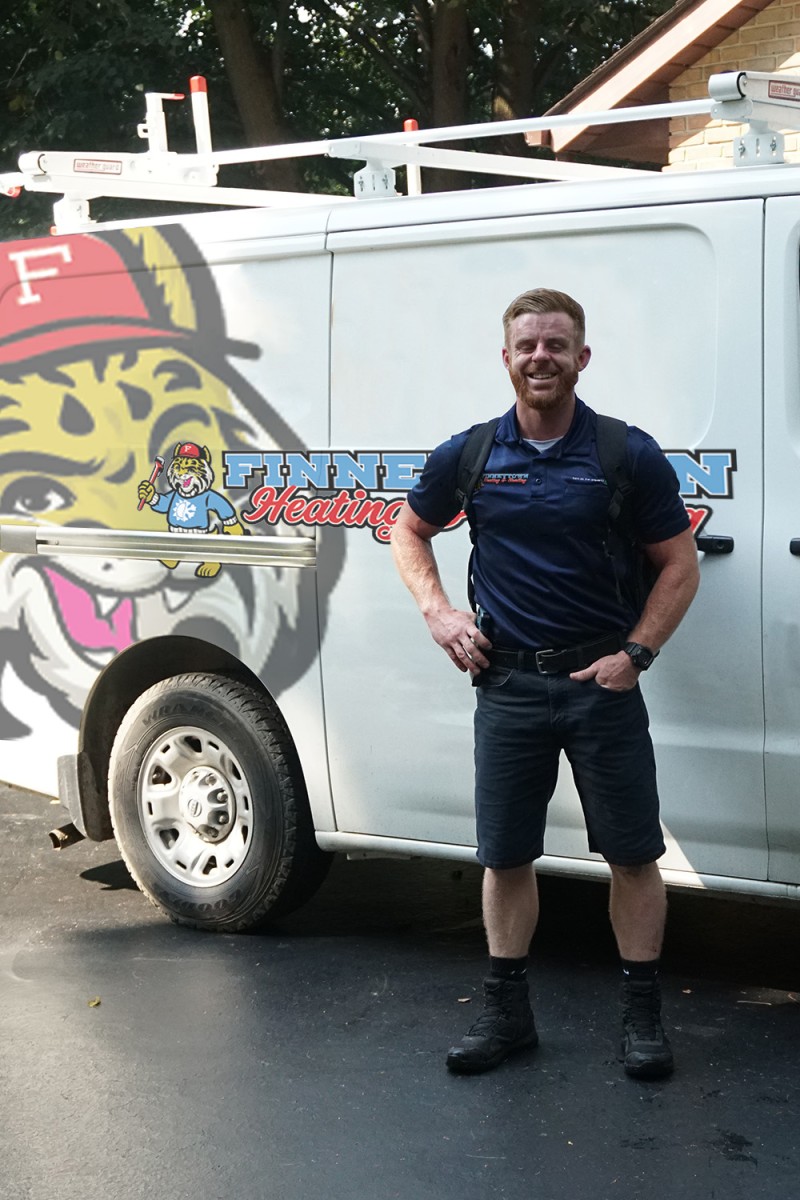 Top 4 Heating
Safety Tips
With heating equipment being the second leading cause of house fires in the nation, and the third leading cause of fire deaths and property damage, our heating safety specialists here at Finneytown Heating & Cooling are always putting safety first with our customers.  Although space heaters, fireplaces, stoves, water heaters and other heating appliances are the most common cause of fires, all heat-generating equipment should only be used exactly as recommended. Heating equipment should only be used with the utmost safety in mind.
In the following, our NATE-certified home heating safety technicians offer several safety tips to keep your home safe in addition to keeping it warm all winter long.
Fully functioning smoke detectors are essential

Homeowners and property owners should always have dependable smoke detectors on every floor of the home or building, including any basements and hallways. Additionally, there should be a smoke detector inside every bedroom and outside every bedroom. Smoke detectors should be tested every month to ensure these devices are in good working order and located on the ceiling.
Make sure heating systems have plenty of space
Because heating systems utilize fuel and produce heat, it's important to give them plenty of space. If you have to keep anything stored in the room with your furnace, which is should be avoided if possible, be careful not to set anything near it, especially anything flammable. This includes boxes, carpets, paperwork, chemicals and fuel. Three feet of space is what safety experts suggest to keep around heating systems. Additionally, if you have any children in your home at all, make sure they understand as a rule never to play around the furnace and to stay away from it.
Replace your furnace's air filters regularly

Heating systems require proper airflow. Without proper airflow, a furnace can become a serious safety hazard. To make sure your furnace has proper airflow, remember to check the air filter at least once a month during the winter. If your air filter needs to be changed, which it will a lot more during the winter, make sure to do so without delay. Regularly replacing furnace air filters is essential for all heating equipment. We cannot overemphasize the importance of this.
Get a furnace inspection and furnace safety check

If you're looking to keep your place safer heading into winter and catch potential heating system problems before they become safety hazards, it's essential to have a furnace technician come out to perform a thorough inspection and safety check. Safety inspections are part of routine maintenance at Finneytown Heating & Cooling. Our experts can troubleshoot your furnace from top to bottom and run furnace diagnostics to locate concerns before they evolve into major problems and safety issues. 
Finneytown Heating & Cooling
Local
Heat Pump

Repair, Maintenance, and Installation
Finneytown Heat Pump Services
Heat pumps are devices that transfer heat from one place to another. They offer heating and air conditioning for homes and commercial spaces. Although heat pumps look a lot like a central air conditioning system, they offer heating in addition to air conditioning. During the winter, heat pumps usually work with the assistance of an air handler.
Finneytown Heating & Cooling encourages you to improve your indoor comfort levels while lowering your heating and air conditioning costs by installing a heat pump. This single, year-round heating and cooling system is better for our environment. Heat pumps need less maintenance. They are also lighter on energy consumption and much quieter. When things become hot and humid during the summer here in Southwest Ohio, heat pumps operate very similarly to an air conditioner. They help to remove humidity and offer indoor comfort that's no different than a centralized air conditioner. During the winter, however, heat pumps also help with indoor heating. During the coldest times of the year, heat pumps work with an air handler or secondary heat source.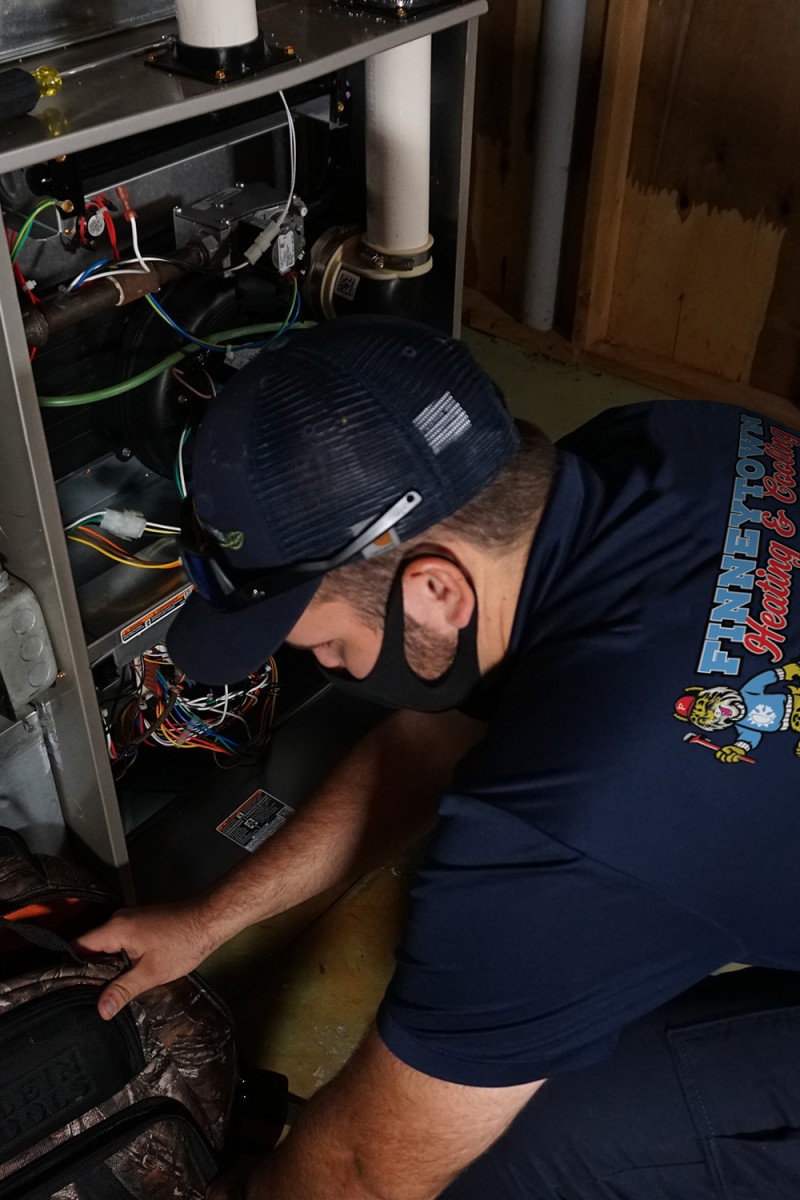 Emergency Furnace Repair Experts in Finneytown, OH
When it's cold outside here in the Cincinnati area and your heating system goes haywire, you don't merely have a problem on your hands — you have a heating emergency! When your furnace is on the fritz, you don't have time for slow service or shoddy workmanship from a second rate furnace handyman. You need quality home heating services from experts other homeowners trust. You need Finneytown Heating & Cooling, your local emergency furnace repair experts near you who care about your home heating and air!
When you hire a professional HVAC company like Finneytown Heating & Cooling, quality is what you get every time. We offer affordable emergency furnace repairs and heating system repairs to all of our clients in Southwestern Ohio and Northern Kentucky! Moreover, to help homeowners prevent instances like this from happening in the first place, we also offer routine furnace maintenance services throughout Greater Cincinnati as well! The expert service team at Finneytown Heating & Cooling brings you top-class service that guarantees satisfactory furnace repairs every single time. We know that you are in a tough spot when your heater goes haywire. We know you need an HVAC expert you can trust to repair things in a timely manner. So we send you certified and licensed professionals quickly and utilize cutting-edge repair tools and the latest HVAC technology. For expert HVAC services you can trust from a local team near you that truly cares about your home comfort, budget and well-being, you can always count on us.
How much do furnace repair services cost?
The average cost for a furnace repair in Ohio is around $300. The actual cost, however, varies between $131 and $484, depending on several factors. Electric furnace repairs often run $300 or less. Gas furnace repairs range from $375 to $1,200 because of the complexity of gas furnaces. Most HVAC experts charge around $75 an hour as a standard service fee without the cost for parts. However, even that number ranges from $50 to $150 per hour depending on the company. At Finneytown Heating & Cooling, we offer furnace diagnostics without obligation for a lower dollar amount than you'll find anywhere else!
What are the most common types of repairs made to furnaces?
The most common types of problems we fix when we go on furnace repair calls include issues with the pilot light, the thermostat, the flame sensors, the ignitor, the blower belt, and the blower motor. We also see a lot of short cycling due to poor installation. Of the most expensive problems with a furnace system is a crack in the heat exchanger. This is one of the most serious problems that can happen. Dirty air filters are another common issue, but they are also one of the easiest problems to resolve. Replacing an air filter in a furnace is something every homeowner should be able to do on their own. 
What is considered a heating system emergency?
Anytime you lose heat and it's cold outside, especially when it drops to near or below freezing, this loss of heat we at Finneytown Heating & Cooling consider an emergency. Furnace emergencies are our top priority as Finneytown's trusted heating expert. Furnace breakdowns can leave a home or business without heat during the worst possible time of the year. Furnace breakdowns can happen during the middle of the night, on Christmas, Thanksgiving or New Years. They can happen in the middle of a weekend or family celebration. Furnace breakdowns happen often with little to no warning. Fortunately, Finneytown Heating & Cooling offers emergency furnace repair services around the clock, 365 days a year.