Finneytown Cooling Services
Residential Cooling Systems in
Finneytown, Ohio
At Finneytown Heating & Cooling, our mission is to provide our community with more comfortable, efficient, healthier homes and workplaces using expert technicians, top-quality products and amazing customer service. We have built our entire company on a basic set of values that include honesty, friendliness, fairness, equality and giving back. These values are reflected both externally to our customers and internally to our own team. As Southwestern Ohio's top-rated HVAC experts, we have decades of experience in the HVAC industry. Because of this experience and our track record of excellence as a part of the Five Star Home Service Family, Finneytown Heating & Cooling is the number one company to call when you need help with any sort of HVAC equipment in your home or business in the Greater Cincinnati and Greater Dayton areas.
We offer assistance with all types of air conditioning services with a single visit to your home. We offer homeowners and business owners throughout the Greater Cincinnati and Greater Dayton areas and parts of Northern Kentucky everything from A/C installation, A/C replacement, emergency air conditioning repairs, A/C maintenance and more. We are an Athorized Amana Dealer. Additionally, we sell and install all the top brands of equipment, including brands such as Amana, American Standard, Bryant, Carrier, Daikin, Goodman, Lennox, Rheem, Ruud, Trane, York and Heil.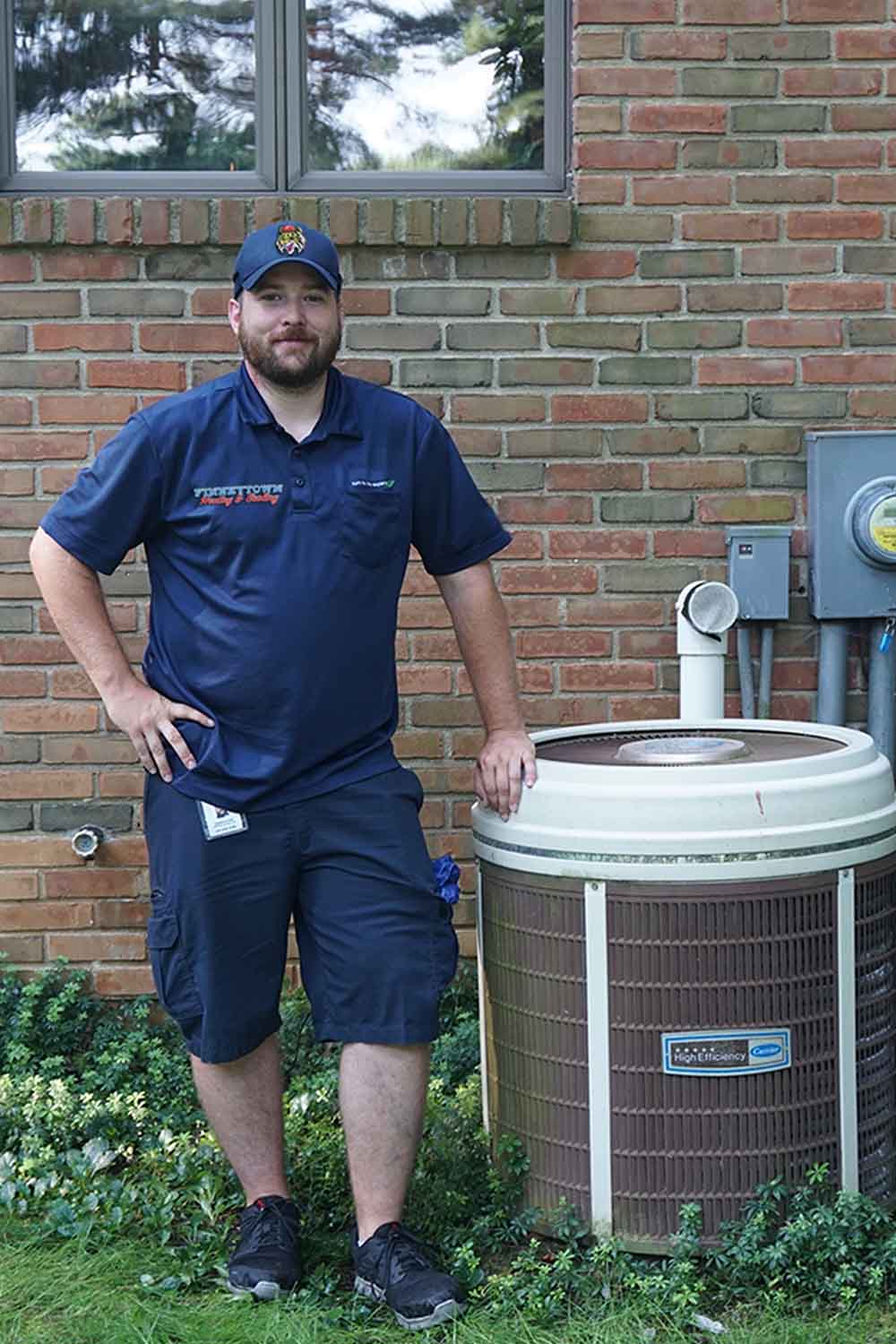 Finneytown Heating & Cooling
A Local Company
You Can Trust
Air Conditioner Maintenance
Air Conditioner Installation
Expert Air Conditioner Repairs in Finneytown, OH
Summers are hot and humid here in Southwestern Ohio. When you have problems with an air conditioner, you need an HVAC repair person near you who can come over to your place quickly and offer expert air conditioning services at prices that are fair. At Finneytown Heating & Cooling, our knowledgeable air conditioning repair specialists have the skills and experience to repair, service and install all types of residential and commercial air conditioning equipment. We offer long-term comfort and air care solutions at competitive prices and products that are made to last a lifetime. The men and women who wear our uniform are screened employees of our company who are highly trained and fully insured. They come to your home or business in a timely manner and are fully equipped with all the latest tools, technology and diagnostic equipment. They work on all types of equipment and quickly make the proper diagnosis. Depending on what you decide to do, they can perform repairs right there on the spot without it costing you an arm and a leg.
Whether your air conditioning unit is making strange sounds, struggling to keep up with the heat, or stops working completely, call Finneytown Heating & Cooling for your residential air conditioning repair needs. With one quick and easy phone call to the ac experts at Finneytown Heating & Cooling, a trained HVAC repair person can come to your home or business right away to find the precise cause of the problem and provide you with an effective and affordable plan for repairs. Because your air conditioner doesn't merely work from 9 a.m. to 5 p.m., neither do we. You can reach out to us any time of the night or any day with 24-hour emergency air conditioner repair services. We are even working weekends and even during all the holidays. We at Finneytown Heating & Cooling make the entire air conditioner repair process fast, affordable and simple. You could say we make keeping your home cool as easy as a breeze. The work we do is straightforward and simple. We explain everything and find you the most affordable long-term solutions. As our highly-valued customer, keeping you satisfied and comfortable is our top priority.
Affordable
Air Conditioning

Maintenance Services in Finneytown, OH

No one wants to encounter an air conditioning problem when summer weather heats things up here in Southwest Ohio. And yet far too few homeowners and business owners take the necessary steps to prevent them from happening. Unfortunately, they tend to happen when we need them the most. Throughout the years, HVAC units are put through a lot. Our home comfort equipment works around the clock. Eventually, the harsh summer heat and humidity take a toll on how an air conditioner or heat pump functions and how long the HVAC equipment lasts. Over time, homeowners usually see a rise in their air conditioning costs as their unit becomes less and less efficient. Soon or later, breakdowns and other types of problems become a common occurrence and eventually they have to replace the unit completely. When this happens, the cost of maintenance pales in comparison to the cost of installing a new cooling system.

We at Finneytown Heating & Cooling can help you keep your air conditioning system or heat pump in perfect working order for longer while prolonging its service life. With regular maintenance from one of our ac service technicians, keeping your A/C unit running smoothly is as easy as a breeze. At Finneytown Heating & Cooling, our preventative maintenance services are second to none. To increase your savings, in fact, we also offer service maintenance agreements to ensure there's never issues with equipment during the summer. Although seasonal maintenance comes with a small price, you can't afford to ignore something this essential, especially when it's offered by air conditioning maintenance experts near you at prices you won't find anywhere else.
Air Conditioner Installation in Finneytown, OH
Finneytown Air Conditioner
Installation
Whether you need a new central air conditioner for a house or building that was recently built or a replacement for an older unit, our expert team at Finneytown Heating & Cooling is ready to help. We have decades of combined experience on all types of air conditioning systems and heat pumps. We offer the best and most affordable air conditioning installation services in Finneytown and Greater Cincinnati, with expert advice in finding the right system for your home or building. Furthermore, we are your local Authorized Amana Dealer, which means that no matter what type of A/C unit you need, we ensure superior quality products (including heat pumps) with the best warranty coverage in the industry.
At Finneytown Heating & Cooling, our reputation is as solid as the systems we sell and install. When you need to replace a centralized air conditioner and install a new one, you need an HVAC contractor you can trust.  Our air conditioning experts Finneytown Heating & Cooling make the whole ac installation and ac replacement process as easy as a breeze. From the time you make that initial call until the time your new A/C unit is installed and running nicely — we make the whole experience a positive one. We offer a Best Price Guarantee on all the leading air conditioning equipment from top brand manufacturers and industry leaders. Because of our famous Customer Satisfaction Guarantee, you will never regret choosing your friends at Finneytown Heating & Cooling for all your indoor comfort and all-around air care needs because we guarantee it! We appreciate your time and your business and look forward to working with you in the future!
We Provide Heating Services in Finneytown, Ohio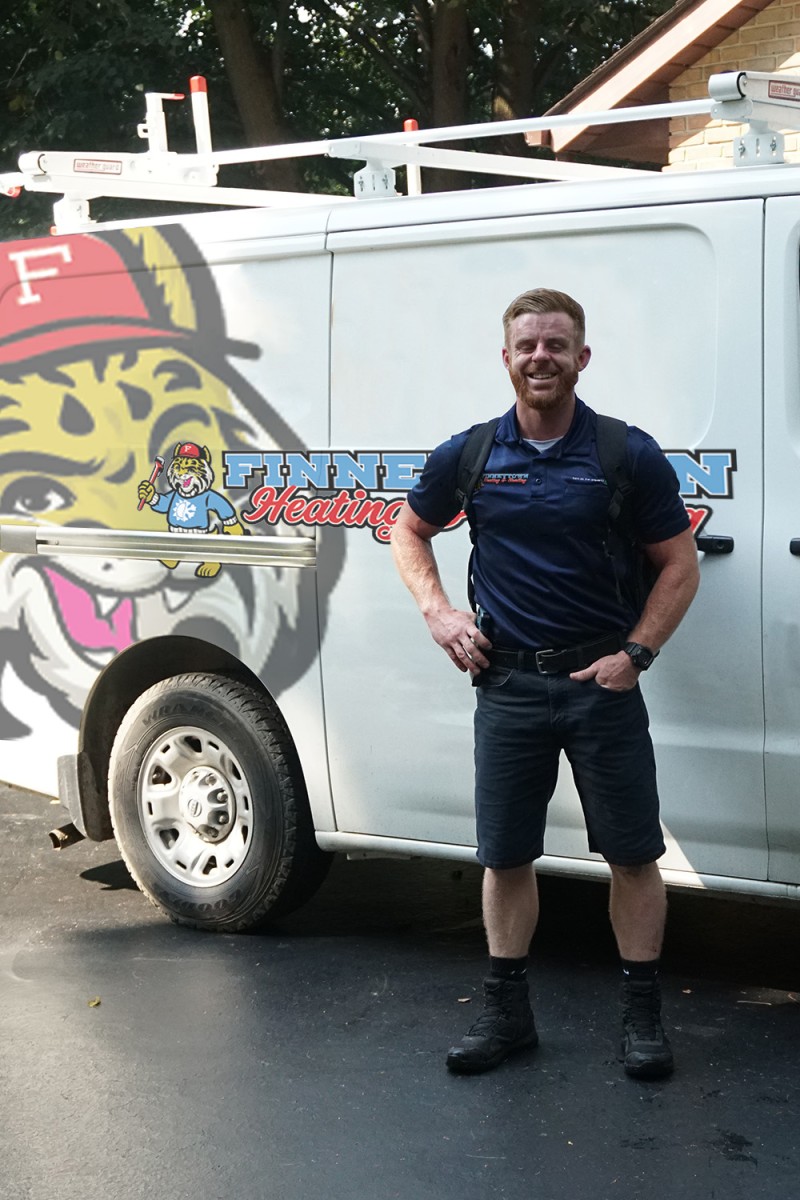 Top 4 Air Conditioning
Efficiency Tips
Homeowners and business owners in the U.S. spend more on air conditioning than all the other countries in the world combined. With air conditioning bills across the nation on the rise as energy costs soar, it's now more vital than ever to utilize energy-saving options to optimize air conditioners and heat pumps, to lower cooling costs without compromising comfort. Because of Southwestern Ohio's hot and humid summer weather, air conditioning is essential for overall comfort, relaxation and rest. However, this does not mean it needs cost an arm and a leg. If you're looking for cool relief from high indoor cooling bills, our air conditioner efficiency experts offer the following:
Making full use of all the available ventilation indoors, in addition to using fans, is another effective way to ensure your home feels cooler during the summer while lowering air conditioning costs. Although fans won't sufficiently replace your home cooling system entirely, especially during the hotter months, fans always help make it feel more reasonable. Fans keep air flowing, which makes it feel cooler. Fans work nicely alone when the weather isn't too hot and humid. Ideally, you should place them near doors and windows, or inside windows. They can help by creating breezeways to keep air moving.
Change Air Filters Regularly

Air conditioning systems need airflow to operate efficiently. With this in mind, it is essential to check air filters regularly during the summer when using your air conditioner. Dust and dirt accumulate quickly in air filters and this hinders airflow. Ideally, you should be checking your air filters every single month during the summer. Replace them as often as necessary, or clean them. Doing so can decrease home cooling by 5 to 15%.
Reducing the use of appliances that produce heat in the home can lower home cooling costs. This includes large stoves, irons, lamps, ovens and certain types of electronics. One alternative to cooking indoors is to try cooking on a patio or outdoors. This reduces the heat generated within your house or building while the A/C is working to cool the place down. Additionally, you need to try to keep these same appliances away from the thermostat. Otherwise, the heat they produce can interfere with the thermostat's reading and force the system to have to work harder to cool the place. This causes it to consume more energy than necessary,
Air Duct & Vent Maintenance

Make sure your air ducts are fully sealed and well insulated. Insulation is essential for air ducts that travel through the attic or other areas not kept properly cool. Likewise, it's always a good idea to inspect for leaks in the ductwork to guarantee they don't have any air leaks, gaps or holes. If you find any air leaks in your ductwork, duct tape can be used to seal it. In fact, that's where it gets its name, "duct tape." This type of repair is one that you can do on your own without an HVAC expert. However, some types of air leaks and damage to ductwork need to be checked by a professional. This can be done during a maintenance call. 
Finneytown Heat Pump Services
Heat pumps are devices that transfer heat from one place to another. They offer heating and air conditioning for homes and commercial spaces. Although heat pumps look a lot like a central air conditioning system, they offer heating in addition to air conditioning. During the winter, heat pumps usually work with the assistance of an air handler.
Finneytown Heating & Cooling encourages you to improve your indoor comfort levels while lowering your heating and air conditioning costs by installing a heat pump. This single, year-round heating and cooling system is better for our environment. Heat pumps need less maintenance. They are also lighter on energy consumption and much quieter. When things become hot and humid during the summer here in Southwest Ohio, heat pumps operate very similarly to an air conditioner. They help to remove humidity and offer indoor comfort that's no different than a centralized air conditioner. During the winter, however, heat pumps also help with indoor heating. During the coldest times of the year, heat pumps work with an air handler or secondary heat source.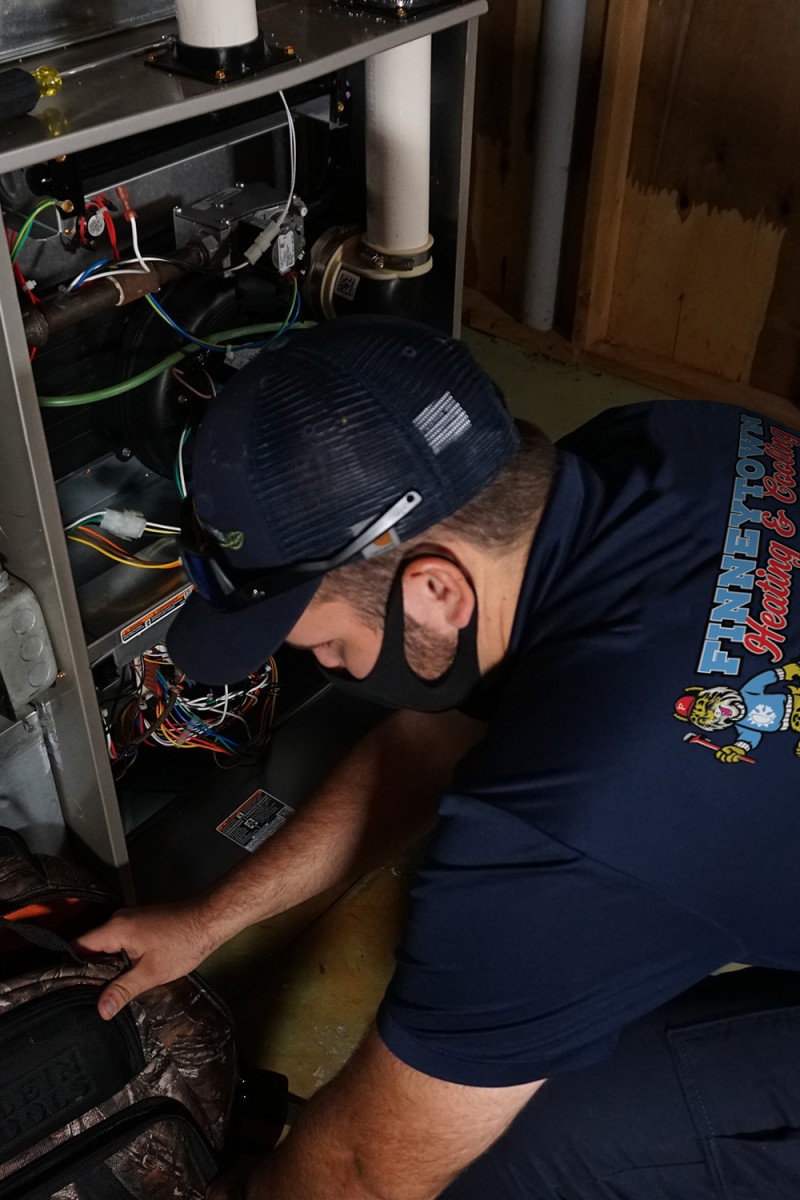 Emergency A/C Repairs in Finneytown, OH
We at Finneytown Heating & Cooling believe you shouldn't have to deal with the unforgiving summer heat and humidity without air conditioning. The same is true during the winter. We believe everyone deserves crisp cool air during the summer as well as sufficient heating during the winter. If you've lost either of these, you can count on Finneytown Heating & Cooling for all types of emergency HVAC services. With decades of combined experience serving area homeowners and business owners with superior heating and air conditioning services, our emergency cooling and heating experts are prepared for all types of HVAC problems. Because these problems tend to happen when we used these systems the most, we strive to provide timely emergency repair services around the clock, every day of the year. Whether your heat pump, furnace or air conditioning unit is making noises, has poor airflow, or whether it doesn't want to turn on at all — your indoor comfort experts are able to quickly resolve any and all home comfort and air quality problems during a quick and simple visit to your home or building. All you have to do is call! We want you to feel comfortable in your home or building around the clock, regardless of the season, the weather, the time or the day. Plus we service and repair all types of cooling systems, all makes, brands, and all models of cooling equipment. On any given repair call we go on, we can replace anything from A/C coils, and A/C condensers to AC compressors and motors. We can also change your air filters, if necessary. We check fan motors, drainage lines, refrigerants, sensors, electrical wiring, expansion valves and more. 
Finneytown Heating & Cooling is a top-rated HVAC contractor near you that is proud to serve the Greater Cincinnati and Greater Dayton Ohio areas and call them home. We are proud members of the Five Star Home Service Family. Whenever you choose a member of the Five Star Family, you are choosing a local company with local technicians who are committed to customer satisfaction and making our communities better places by helping people in need!
What is an HVAC emergency?
At Finneytown Heating & Cooling, emergency calls are always our highest priority calls. If you ever have a cooling system breakdown during the summertime, we consider it an emergency. It's also an emergency if you lose cooling during the hot months and there are elderly people or children in the home or building. Boiler leaks and pipe bursts are also considered HVAC emergencies, in addition to gas leaks. When there's a gas leak, you should evacuate the home or building right away before calling 911. Because our emergency technicians know that emergency situations are different in every home or building, our customer service experts always strive to listen closely when you call to understand your needs and get all the information. We also provide any information that might be helpful on how to stay safe while waiting for our team to arrive.
What types of air conditioning units are available?
Our customers can choose from many different types of air conditioning units with high-efficiency ratings when they choose Finneytown Heating & Cooling. Although the most common types are central air conditioners, we also offer ductless air conditioners and zoned air conditioners and heat pumps The standard central air conditioner usually includes an outdoor unit and an indoor unit, which works with the heating system's equipment. Ductless air conditioners or mini-splits consist of an outdoor heat pump that connects to the air handler in the home. Zoned air conditioners are ideal to cool specific rooms. 
How does my AC system work?
When an air conditioner functions properly, like they're designed to run, they operate in cycles. Once the system's thermostat reads the increase in temperature and it's warmer than your desired level, the cycle starts. Then, when it detects the increase in temperature, the system kicks on and pulls warm air into the unit over the evaporator coils. Using AC refrigerants inside the unit's compressor, the ac coils absorb heat in the air and cool it down while removing moisture. Throughout the cooling cycle, heat is released outdoors through the fans while the cooled air goes indoors. Eventually, the cooled refrigerant goes back to the indoor unit where the process is repeated until it reaches the desired temperature.