Finneytown Air Conditioner Installation Services
Expert
Air Conditioner Installation

Services in Finneytown, OH
Are you looking to install a new air conditioning unit? Whenever it comes to something as complicated as putting in a new central air conditioning unit, a homeowner or building owner should always seek out an HVAC expert who has a proven reputation. Not only do you want your HVAC installer to guarantee 100% customer satisfaction, but you also want one that's NATE certification and has full insurance. When it comes to installing air conditioners in the Greater Cincinnati Ohio area, Finneytown Heating & Cooling is a local expert that homeowners and business owners trust. As your local Authorized Amana Dealer, we sell the most superior home cooling systems available on the market and we offer expert air conditioning installation with the best warranty coverage on the market. In short, we at Finneytown Heating & Cooling offer what you won't find anywhere else. We have all your heating, air conditioning and all-around air care needs covered in one place.
Finneytown Heating & Cooling makes the otherwise troublesome cooling system installation and replacement process simple, affordable and easy. Whenever we replace an air conditioner or heat pump, we take the work seriously, offering the highest level of skill, and do the work right the first time. We make the installation process a positive experience — from the time you first call to the time we leave you with your new air conditioning unit working in your home. In short, we want you to "Experience the Difference" and we hope you'll tell your friends and family about us. By choosing an HVAC contractor that's a part of the Five Star Family, you are choosing local experts who care about your home and your comfort. We are invested in the community and committed to customer satisfaction at every turn.  Finneytown Heating & Cooling customizes all your air conditioning and indoor air quality needs and we believe paying for a new air conditioner should never be something that costs an arm and a leg. Your comfort shouldn't break the bank either. To show you we aren't just "blowing hot air," we offer HVAC finance options with flexible terms and manageable monthly payment plans through a variety of local lenders who offer low interest rates.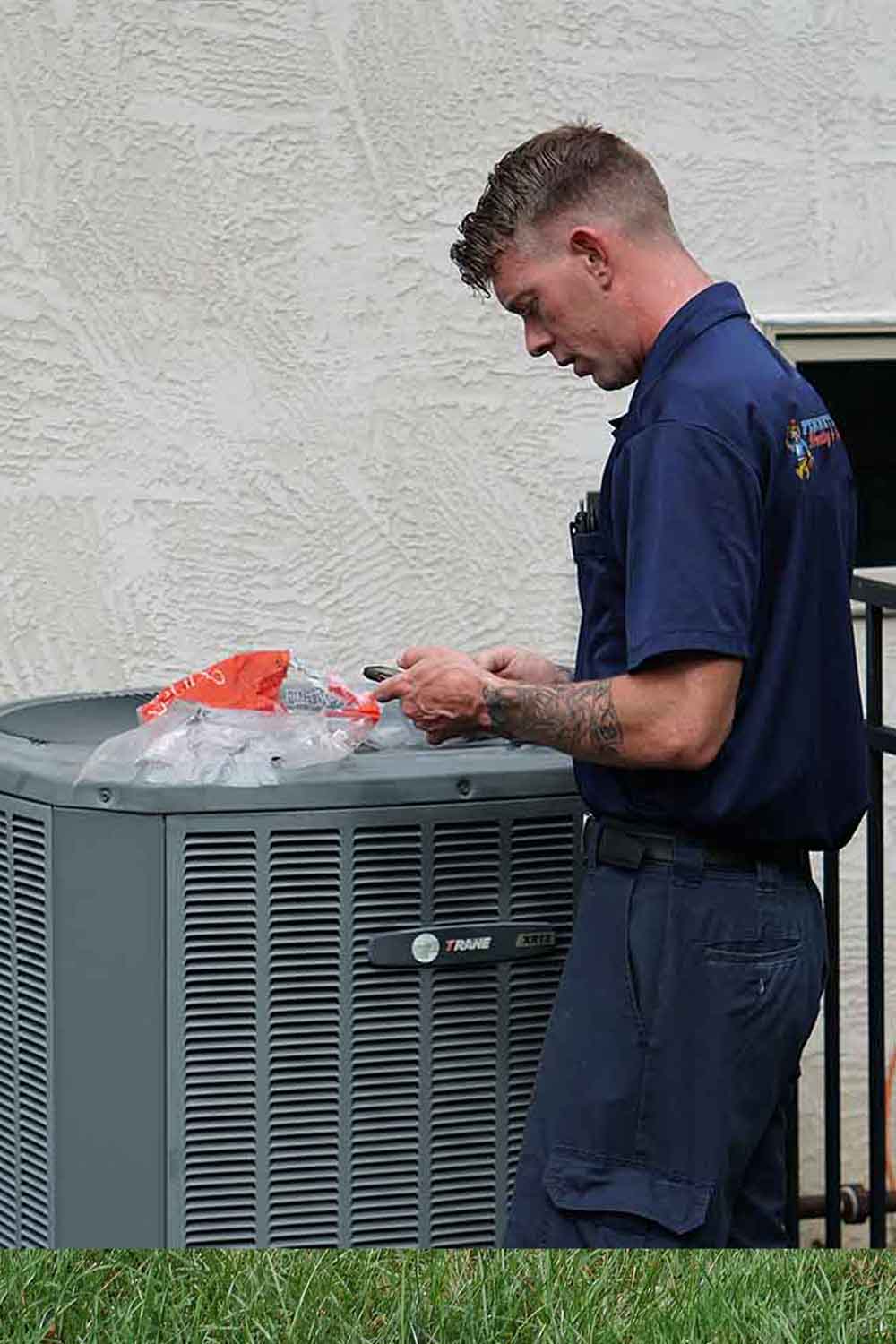 About Our Instant Online Estimate Deal
As your local HVAC experts in Southwestern Ohio, we at Finneytown Heating & Cooling make the entire home cooling system installation and replacement process as fast, as simple and as affordable as possible by taking out all the stops. When you call us, we send you the absolute best in the business!
If you are looking to install a new HVAC unit — whether you need a home cooling system replaced or a new A/C for a new home — we encourage you to check out our Instant Online Estimate tool today so you can get a free quote on a new air conditioner. Simply click the coupon above and fill out all the requested fields before clicking the submit button! Once that information is submitted, we will contact you as soon as we receive your information.
When to
Replace

An Air Conditioner
Your air conditioner isn't cooling your home sufficiently

If your air conditioner isn't cooling your home, there's something going on with the equipment that needs to be checked by an expert. Your unit might have insufficient levels of refrigerant, or you might have a problem with the compressor or some other component. There are a wide range of causes for this type of problem. However, you shouldn't have to wait and you certainly don't need to sweat it out another summer with an air conditioner that isn't doing the trick. If the repair bill seems extensive and it's an older system that might have outdated equipment, we suggest cutting your losses and installing a new system.
Your system more than 10 to 15 years old

The average lifespan of an air conditioner is 10 to 15 years. If your air conditioning system is older than that, you've received a good return on your HVAC investment. With that said, after the system reaches this age, it's probably a good time to cut your losses and upgrade to a more efficient system. Most experts agree you need to replace your air conditioning unit when it reaches this. By doing so, you'll likely be surprised to find our newer model A/C systems are usually far more efficient and they enjoy substantial savings in home cooling costs. By being proactive and upgrading your air conditioner when it reaches this age, you spend less money in the long run. Check out our online deals or ask one of our support members about potential offers on new air conditioners.
The system doesn't have healthy airflow

If the home cooling system you own isn't blowing out air like it once did, or if airflow is lacking, it isn't performing the way you need it to. This is a problem an HVAC professional needs to check closely. There are several issues that can cause airflow to decline. Although you can have one of our A/C experts take care of the problem, if repair costs are high and the HVAC unit is older or outdated, you can opt to replace it. We suggest being proactive because it's only going to cost more and more and eventually you would have been better off installing a new A/C with higher energy efficiency and longevity.
You notice leakage or moisture

Although small amounts of condensation is normal in certain parts of the home, during certain times of the year, excessive condensation can often be an indication of something serious. Leakage is another major problem. This can be caused by a more serious problem. If your unit is leaking refrigerant or you have water pooling up around the unit, it needs to be inspected by an expert right away. Leaking ac refrigerant is a safety issue with potential health hazards. Excessive water leakage can damage the flooring in the home in addition to home furnishings. Ultimately, with enough time, it can cause mold. Mold is always a serious health concern. 
24-Hour Emergency Cooling Services in Finneytown, OH and Greater Cincinnati
Ohio's winter weather is cold. When you lose your source of heat, your heating emergency becomes our heating emergency and we send someone over quickly. Fast and affordable emergency heating system repair services are always a simple phone call away when you choose Finneytown Heating & Cooling. We can fix any and all residential furnace problems (we repair all types of furnaces, all makes, ages and models) in a single visit. In fact, emergency furnace repairs are one of our specialties. With customer satisfaction as our highest priority, you can't go wrong calling Finneytown Heating & Cooling for all your heating needs. When you call us with a furnace problem, our emergency furnace repair experts send an expert to your home without any sort of delay, that same day. Without it costing you an arm and a leg, they show up fast and fix your furnace on the spot. Finneytown Heating & Cooling understands that a furnace breakdown is more than a hassle. With Ohio's cold weather, furnace problems are potential safety hazards.
Even if your heating system is still running, if your heater is underperforming or older than 15 years, you should call a professional to have it looked at, especially if it's an older gas furnace. Gas furnace problems can be especially dangerous. Don't risk letting a heating system problem go unaddressed another winter day. 
General
A/C Installation

FAQ
How long does a newer air conditioning unit last?
Our newer model central cooling systems and heat pumps we sell and install at Finneytown Heating & Cooling are usually good for 20 years, if not more. How long they actually last, however, depends on how well you take care of them. Older air conditioning systems usually last about 10 to 12 years and sometimes longer when they are maintained by an expert. The longevity, health and efficiency of your air conditioning system depends on preventative maintenance. Air conditioners, like all HVAC units, require professional maintenance. 
What is the best type of air conditioner for my home?
Finding the most accurate size system to keep your entire home or building cool is the most important part of the A/C installation process. Residential air conditioners are sized by the ton. As such, the general rule of thumb is to add a single ton for every 600 square feet of space where cooling is needed. If the home or building is 3,000 square feet, for instance, you need a 5-ton system.
How much does A/C installation usually cost?
Having a new A/C unit installed in a home or building is a major decision. The average costs of A/C installation and A/C replacement (for homes) usually starts around $3,000. Depending on the size of your home, it can run more than $7,000. In any case, these estimated costs should not discourage you. The actual price tag varies a great deal and is affected by the following factors: Where you live, the size of your home, the type of A/C you choose and even the condition of your existing equipment. Additionally, we at Finneytown Heating & Cooling can help you finance your new air conditioner and keep monthly payments low. With the savings in energy, you'd be shocked by how little extra you have going out every month.